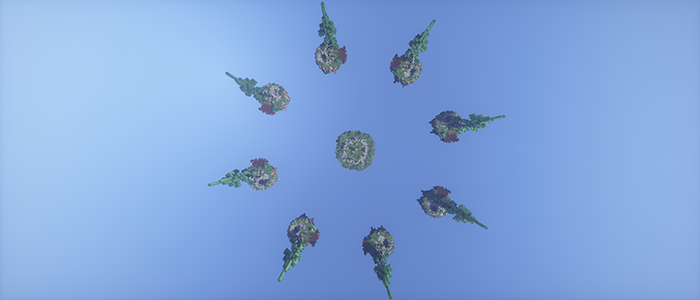 This is just a short update to tell you that we have now added the minigame Skywars! This minigame has been requested to be included for a long time now and we have now finally come around to adding it!
For the few who don't know, Skywars is a PVP game mode were each player spawns on their own island which are all circled around a big center island. Every player has to get resources, mine, craft and build to survive and eliminate the other players. You can sit tight and hide or build your way to the center island, or other player's islands and take the victory with pure strength. How you play it up to you. It is kind of like Survival Games except everybody is closer to each other and you have to build and mine to survive.
Interested? Head to the hub /hub and go to the Skywars lobby on the first floor. We currently have one map but more are on their way, probably.
In other news we have rebuild the entire permissions system to fix a bunch of problems that were appearing recently. One of them being the Discord chat. The Discord chat is now finally reconnected and you can now once again talk to people on the server through Discord on Discord our server, on the text-channel #minecraftchat. If you haven't already, you can join our Discord using this link: discord.me/asp . One of the other things we have fixed is Spleef. Spleef should once again work a little better and not trap people in the arena, whoops. Hopefully it won't break again ;)